Everyone has thought about what will become of them in a few years, how they will change: for better or for worse. A positive result requires painstaking work, and only you can influence your own destiny. We have collected simple but useful habits, the result of which can be expected in the future.
1. Learn how to deal with stress
Learning how to deal with stress can be a challenging task, but once accomplished, it can elevate your inner state to a new level of harmony. More often than not, people succumb to their emotions and anxieties, which is something that needs to be eliminated first and foremost. Ask yourself this: have your emotions ever helped you get out of a tough situation? The answer is most likely no. Instead, try to approach your problems with rational thinking. One of the easiest ways to restore your spiritual balance is through breathing exercises or yoga. Ask yourself the right questions, cut off your worries, and have faith in yourself.
2. Read several pages a day
A great workout for the brain in general. Think of reading as an opportunity to relax. Download a book into your phone and set a goal of what you should read every day. Fifteen pages will do for starters. Do it on your way to work, in your free time, yes, whenever, but remember that you are obliged to fulfill the set volume.
3. Dedicate time to your favorite hobby
It is best if there is as much time as possible, not just on weekends. Options for hobbies can be traditional needlework (embroidery, knitting), drawing, writing literary texts, or more progressive ones like cycling and plogging. It may happen that your favorite hobby will turn into a professional opportunity to earn money, because in a few years you will achieve tremendous results in it.
4. Learn to save money
It's not as hard to make money as it is to learn how to save, or at least spend it wisely. In order to find a significant amount in the piggy bank after five years, set a certain goal. For example, put five hundred rubles in your piggy bank every month, or stick a savings tracker on the box (there are plenty of such options on the Internet). Most importantly – do not take money from the piggy bank without an urgent need.
5. Find out more news and interesting facts
It is important to stay informed about current events, but it is better to surround yourself with positive and useful information. Follow the news in your professional field or the one you are interested in. Broaden your horizons with popular science shows, podcasts, bloggers, or books.
6. Learn poems by heart
A good way to learn to memorize important things better and get a chance to shine with knowledge during a conversation in pleasant company. If you are not interested in poetry, you can take up chess. They force you to think, because during the game you have to calculate every combination.
7. Plan for the day ahead
The best way to do this is not in your mind, but in your notes, even electronically. This way you will not forget anything important and will spend your time productively. Even before you go to the store, make a list of necessary purchases, so that you don't waste precious minutes wandering among the shopping aisles. Five years from now, you'll be surprised at your own focus.
8. Take care of your body
Do anything, but daily. In addition to washing and brushing your teeth, massage your face twice a day and at the end of the week assess the condition of your nails and hair. Remember: if you want to stay slim and trim, choose the right procedure and don't be lazy!
9. Start the morning with a short warm-up
A little exercise will help you cheer up, wake up from your sleepy state, and make your body flexible. It has long been known that movement improves brain activity. Jogging in the morning is the maximum benefit for your health, so don't neglect it. And also stop looking for excuses and excuses: you won't change anything that way!
10. Compliment yourself
It is important that they sound sincere and that you feel something when you say them. Practice this method in front of the mirror as you begin your work day. Praise yourself for your appearance, your focus, or just for fun. Some people go deeper and have whole conversations in private that help them find answers to many questions.
11. Learn the rules of etiquette
Good manners have always been valued by society and raising the level of culture is still necessary. To begin with, choose the type that is closest to you: business, religious, secular, diplomatic, present, because they have distinctive features. After each rule learned, try to demonstrate it in practice: this way the knowledge is better absorbed. It is advisable to use books or to start with our article to delve into this subject.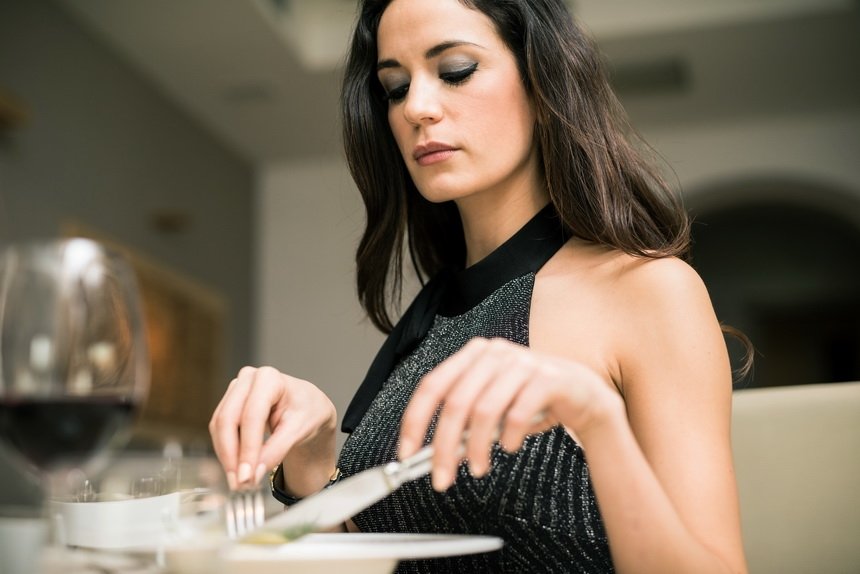 12. Develop critical thinking
Learn to see the downside of things you like. It helps you develop a personal opinion and teaches you to doubt, thereby bringing you closer to the true path and the best solution. Through a critical eye, you develop objectivism and form taste preferences. Take mistakes not as a tragedy, but as a useful lesson.
13. Discuss ideas, not people
Less gossip during tea time with your girlfriends! Why would you want to know other people's personal lives if it won't have a favorable effect on you in the long run? You may cause misunderstanding among your loved ones in this way, but let them know that you want to talk about something more substantial and enjoyable. If you're shy, just move the topic along and lead the dialogue.
14. Don't think about problems before you go to sleep
Otherwise, you will sleep bad, and the problem will not go anywhere. This is especially difficult for mothers and workaholics. Fifteen minutes before diving into a dream, put the phone away, provide complete silence. Instead of something disturbing, dream, calm yourself. And only in the morning, proceed to everyday cares.
15. Set deadlines
Better yet, never put things off, because it is destructive to the course of events. Doing everything in time, you will get not only quality results, but also free time. Sometimes you want to succumb to laziness and throw everything away, but you should not be fooled by weakness. Self-control is the best assistant on the way to success.
16. More smiles, fewer tears
Try not to bring negative feelings and sadness into your own mood. Be optimistic, but it is necessary, otherwise it will seem that everything goes wrong. Never despair, especially in achieving the cherished goal, even if all attempts are unsuccessful. There are no easy ways to achieve something really worthwhile, so all losses should be perceived as a life experience.
17. Don't think about people from the past
People leave, and that's normal. Memories of the departed only slow you down and do not bring you any closer to a happy life. In order not to wallow in thoughts of how good it was, it is important to occupy your time with activities and strive for happiness in the present and future. Respect and appreciate yourself, or you will never feel from others.
We hope that our article will give you confidence in your own abilities and contribute to a positive transformation!